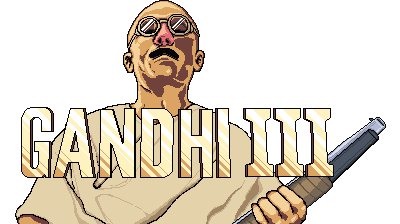 Gandhi III
A downloadable game for Windows
"He's back, and he's mad... AGAIN!"
The city is in danger from a new class of scum, with the streets in chaos and threatened with a nuclear attack the police have their hands tied, now only one man can clean the trash, a one man wrecking crew, the atomic pacifier, in this summer comes the most action packed movie game sequel of the sequel... Gandhi III!
"In a gentle way, i can kick some butt" - Gandhi.*
*Gandhi didn't really say that .
Inspired by Weird Al's skit "Gandhi II" from the movie "UHF".
In no way we own the rights to the movie "UHF", this is only a free fan game inspired by a segment in the movie. This game was made for entertainment, parody and pastiche purposes, and is transformative in nature.
This is our entry for the Unexpected Jam 2020, we aproached the Jam's theme by using a character that in real life was so diferent from the game's theme and gameplay, therefore using an unexpected character for a Beat'em up.
__________________________________________________________________________________________________________
Controls:
W,A,S,D / Arrow keys - Walk;
J / X - Attack;
K / Z - Pick up.
Down, Forward, Attack - Throw Salt;
Down, Up, Forward, Attack - Ultra Punch;
Forward, Forward, Attack - Dashing Kick;
Esc - Exit game.
The game is not fully finished because of the Jam's time limitation, we are still working on it so expect some lack of polishment here and there.
And if you want to see more and/or have any idea on how we could improve the game, tell us in the comments below!
Download
Click download now to get access to the following files:
Ghandi III - Ver 1.1 GamejamEdition.rar
17 MB
Comments
Log in with itch.io to leave a comment.
Thank you so much for the video! I've posted a comment on the video talking more about the game if you guys wanna read it.
Sorry for the late reply, but yeah, i am not sure why it soft locked, sorry! It might have been something to do with the checkpoint, but I believe it was fixed on a new update, if not we will look into it.
But thank you very much for the video!
This game takes me back man. I used to play these types of games back when I was a kid whenever we visit arcade. the background music is awesome and the gameplay is pretty nice as well. but I have a problem with the game. sometimes I cannot punch even though I'm pressing the right key. also, when I got a game over the game won't let me play again. but anyway, it is a good game! :D

p.s game starts at 9:42
Oh wow, you found so many bugs we didn't even know about haha, the game not letting you restart was one we found before but we tought it was fixed, the no punching one i have no idea why it happens, we are working on fixing everything wrong we are finding so thank you very much for the video! Probably in the next month we will be releasing a fully fixed and improved version.
Unexpected, but in a good way..
Never did I ever think that I would be able to play as Gandhi in a game.. where he beats up/kills dudes.. lol. I enjoyed it nevertheless. Although I wish it were longer, and it had more weapons/enemies, it was a good time-killer in my boring life. Hope to see more out of this series lol. 4/5 from me!

Wow, thank you so much for the video haha! Cool to see you had fun with it, the idea came from a movie called UHF, in it there is a scene called Gandhi 2 where he is a vigilante, we just liked the idea so much that we decided to make a "sequel" inspired on it for the Game Jam.
And you also found some bugs we never saw before, so thank you for that, well be definitely fixing them for the "definitive" version of the game.
Show post...

COOL AND CRAZY
Thank you for the video Faith!