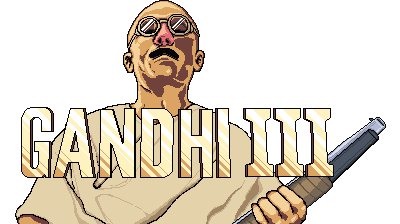 Gandhi III
Ver 1.1 - He is back... one more time.
---
Changelog - 2020-09-15
Game Balance:
Hogan Bullet speed reduced from 2.8 to 2.4
Enemy "Duke" health nerfed from 6 to 5.
Enemy "Shaggy" health buffed from 4 to 6.
Enemies weapon drop rate increased from 75% to 100%
Knife projectile collision size increased.
Life Quality Changes:
Added some measures for Ghandi Punchs vs Movement, now in theory you shouldn't be able to walk while punching.
Added and fixed some Hit Effects.
Added punch sounds for Ghandi.
Added shoot sounds for Ghandi.
Changed the "depth" of some sprites, this will make sprites not render in front of ones that they aren't supposed to.
Added a simple Checkpoint System.
Reworked on Main Menu intro, now you can skip the first screens by pressing "space".
Bug Fixes:
Added some failsafe measures for specials, preventing bugs like the "flying kick lockstate", this one needs further testing.
Fixed Hogan from shooting off screen.
Fixed "lockstate" when using special while holding a weapon .
Fixed not being able to execute a especial move with "WASD".
Fixed "continues" number not decreasing on death.
Files
Ghandi III - Ver 1.1 GamejamEdition.rar
17 MB
Sep 15, 2020