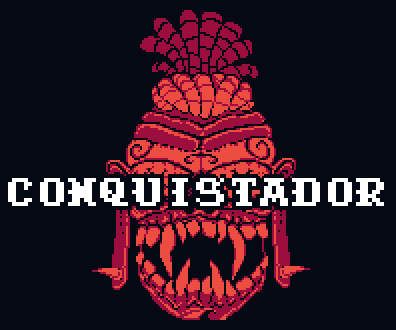 Conquistador
A downloadable game for Windows
They want this land, they will have it...
They came at night like rats,
Like rats they shall survive...
You came to this new land wanting fortune, now, in this cursed forest, you will have to survive against it's dangers, be them natural or not.
Controls:
A,D - Walk;
Spacebar - Jump;
J - Attack;
K - Shoot;
Esc - Exit game.
Entry for the GameJam "A Game By Its Cover 2020".
Inspired by the fictional cartridge "Conquistador" made by Jenn Mima.
Link to the original art http://famicase.com/20/softs/140.html
If you have any feedback to say or/and have found any problems in it, please post in the comments below!
Download
Click download now to get access to the following files:
Comments
Log in with itch.io to leave a comment.
A CHALLENGE TO PEOPLE WHO HAVE FINISHED THE GAME!!!!
This was a nice but frustrating game to say the least. IO think I have to make a part two...
Thank you so much for the video! A second part would be cool, altought you got very close to the end anyway, there is not much else to see after you escape the giant snake man, apart from a little bit of narrative to close the story.
A really nice game, I loved the gameplay and the art style so much! The style full of "shadows" makes the game scary in a innovative way!
Of course, a short game, but it was made for a jam so it's very understandable
great sound design, great atmosphere, and the ending ties it all together really nicely. Great game!
Thank you very much! Great that you liked the ending, wasn't sure if it made sense to other people haha.
The game is short but a very smooth and enjoyable experience with some great musical ques and sound effects. The controls were a bit unusual but i think they totally work with the style of game.

I would like to see this style explored more by the dev Davide puato.

Thanks for a great experience.
Thank you very much! Definitely will change the controls on a future update.
And it's probable i'll explore more of this "contrasting colors" style on another projects, probably something set in the jungle too.
And thank you again for the comment, really appreciate it!
Its a nice game but Im not a fan of the controls. Would you add an option to customize them? That or make it controller friendly. I'd also add an option menu to adjust volume and exit the game.
Of course! My programming skills are very limited and I am also working on some other stuff, but i'll definitely make some improvements, especially the control options, I tought about putting them in, but I was kinda lazy at the time and preferred to just release the game since it was playable, also the Exit button is "Esc" but I should have put that information in the menu, of all the changes I just can't promise the volume adjusting thing, but the others I might be able to change.
And thank you very much for the feedback! It really helps improving the game.